HAVE YOU OR A NEIGHBOUR
EVER HAD A BASEMENT FLOOD?
If so, your risk of having a basement that looks like this
is higher than that of other homewowners.
How well protected are you?
DID YOU KNOW THAT YOUR INSURANCE POLICY
MAY NOT COVER SEWER BACKUP FLOODING?
When heavy rainfall or snowmelt overwhelms municipal sewer systems, wastewater and sewage can surge into basements, damaging floors, walls, furniture, electrical systems and more. If your insurance doesn't specifically cover "sewer backup" flooding, not only would your family's home and health be at risk – you'd be liable for repairs and cleaning costs amounting, on average, to $43,000. Could you afford that?
Extreme weather events in Canada have been increasing at an alarming rate, along with an associated increase in extreme flooding. An estimated 1.7 Canadian households are at risk of sewer backup flooding, and that number will likely rise as our climate changes.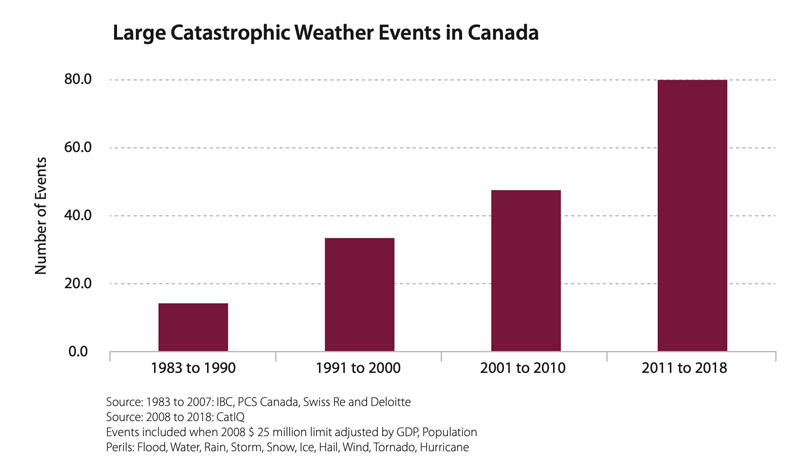 THE GOOD NEWS: SEWER BACKUP FLOODS ARE PREVENTABLE.
Making sure that your home's flood prevention features are in good working order decreases your risk of a preventable flood. That's where we come in.
At Backwater Solutions, our crew of professional home inspectors will conduct a thorough 8-point inspection of your home indoors and out to assess your home's flood risk. Your inspector will advise you on what you can do to increase your home's flood safety and he will also inspect, clean and ensure the correct functioning of your home's most important safeguard against sewer backup flooding: your backwater valve.
TO CONTINUE PROTECTING YOU, BACKWATER VALVES NEED REGULAR MAINTENANCE.
A backwater valve can only protect you if it's clean and in proper working order. That's why some insurers won't honour a claim if a home's backwater valve wasn't properly maintained and in good working order at the time of a sewer backup flood. Fact is, everything flushed down a toilet or poured down a drain ends up passing through this valve, so it needs a good cleaning and inspection once or twice a year to make sure no debris or mechanical issue is preventing it from shutting tightly against sewer backups.
TAKE NO CHANCES WITH YOUR FAMILY'S HEALTH.
Do everything you can to prevent sewer backups because these floods aren't just destructive to your family's home and possessions—they're serious health hazards, too. They can literally flood your home with dangerous bacteria, viruses, protozoa, parasites, toxic chemicals and sharp objects. And then there's the risk of toxic mold.